The world's first "railway" locomotive
The person who is impressive in The manga biography of the great in the world read when I was a schoolchild is Edison and Lincoln and Watt.
Watt is an inventor of a steam engine.
I was charmed by the picture of the very mechanical steam engine.
The time of the Industrial Revolution.
I like appearance mechanical to that futility very much.
A present-day machine is theoretical and too minute.
To be sure, a function is wonderful.
However, the amateur cannot treat.

A TV program called a robo-con(robot contest) is broadcast in Japan every year.
The student of an industrial high school makes the robot of an independence walk, and makes it fight.
I am impressed by it.
However, I do not think wanting to make a robot.
It is because an understanding is impossible.
I like a rough thing.
When out of condition, it will be repaired if it strikes.

Back to the subject.Watt invented the steam engine.
However, there is an eccentric person who attached the wheel to it.
The peculiar British is Trevithick.
He is just an inventor of a world's first steam locomotive.
He made the trial production in 1801. Trial and error were repeated. And it was completed at last in 1804.
The locomotive picked up 10t of iron, and 70 passengers, and ran the whole distance of 16km distance.
However, it took 4 hours.

The papermodel which I made this time is this steam locomotive.
Especially I put power into the mechanism.
In short, I like the gear.
This gear is a movable type.

Spur gears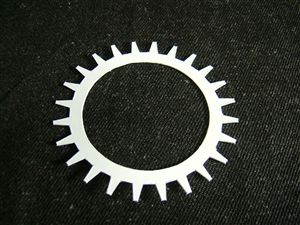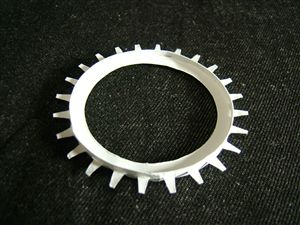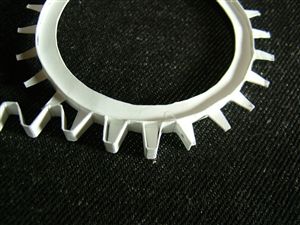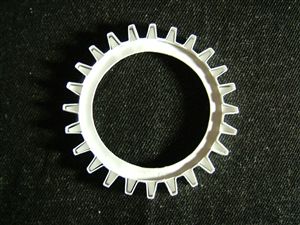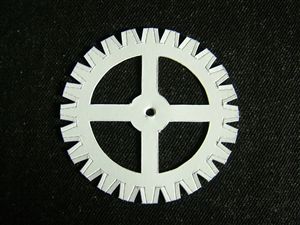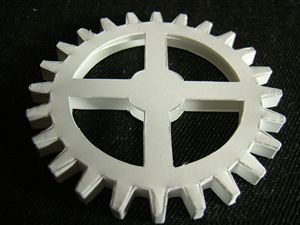 I took pains to solidify it without piling up paper also many-fold.
It is not strong if there is little paper to be used.
Various methods can be considered.
However, under the present circumstances, this method is the best.
Since it is paper, there is a limit in making small.
A module 2 will be the minimum. Skillful work is needed less than it.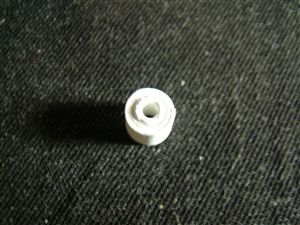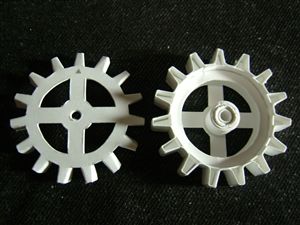 15teeth-gear and axle hole
frame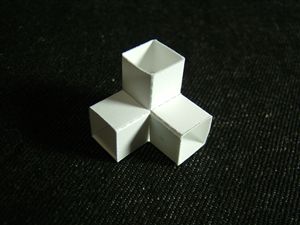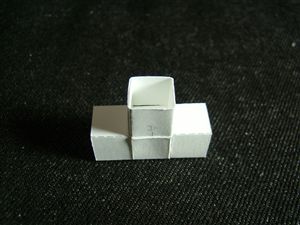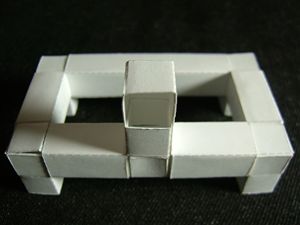 The frame was made by the method of combining a block.
Various forms can be made if usage is changed.
CD stand,book stand,stationary stand,etc (stand stand stand)
This has effective application.
I want to exhibit this item in the future.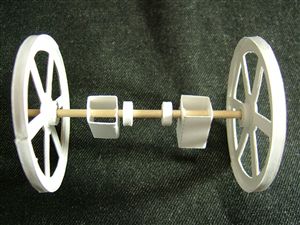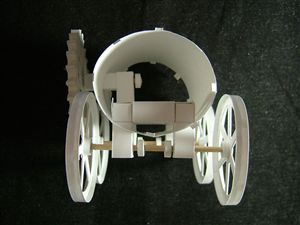 The stick was used for the axle.
It is impossible to make this from paper.
Then, various items are omitted···
Completion picture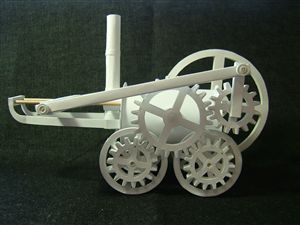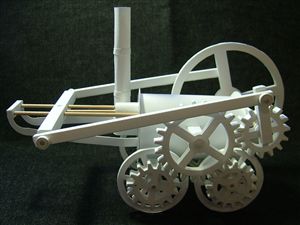 The angle from the best-looking gear side.
I am impressed by the lump of such a gear having run in the town those days.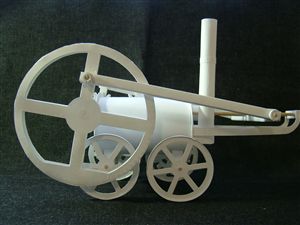 It is hard to throw away the angle in front of slanting.
The flywheel side is slightly insipid.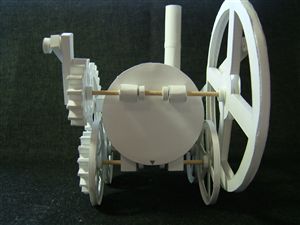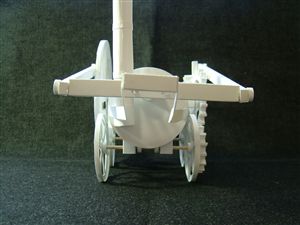 Front and back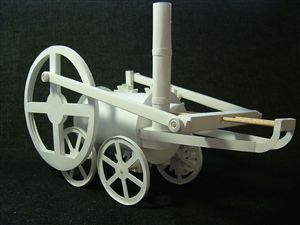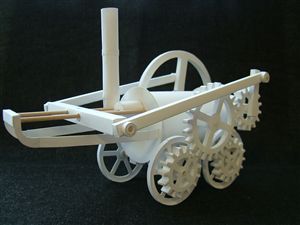 I may think that this is a front if people without knowledge see.
I thought that this was a front when I also actually look at a photograph for the first time.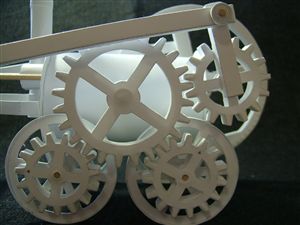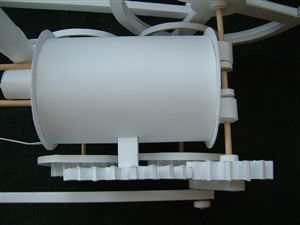 The gear zoom touch.and angle from a top.
Running steam locomotive. However, it is pushing by hand.
Rotation of gears.
A motion of a crank is also interesting although it is simple.
Trevithick's steam locomotive paper model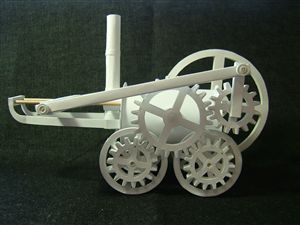 250mm/130mm/160mm
A4-size paper 11sheet

The lump of gear can be made by your own hand.
I offer a drawing data for "$4.99"
A drawing data is "pdf-format".
Therefore, even if work goes wrong, it can print any number of times.

The picture of sample is white model.
However, you can make an original model by using the colored paper which is different for every parts.

Please prepare paper and wooden stick and cut-glue tool and some time.
At first you can get a free trial.
Please download and make it.
Free Trial
Notes :
Check this sample file before actually purchasing goods.
A file may be unable to be perused depending on the personal computer environment which you are using.
When this sample file cannot be perused, Don't buy goods.



Terms of use
Limitations :
You are expressly prohibited from selling, transferring, renting, leasing or otherwise distributing copies of the file or rights to use the file.

Copyright :
All intellectual property rights in the file are owned by "Glue² chronicle".
The file is protected by the international copyright treaties.


Order
Paypal and major credit card can be used for payment.
The "PayPal"-button brings you to a secure payment page where you enter name, credit card, and billing information.
After payment information reaches me, I send a drawing-file to your e-mail address within 48 hours. (In the case of echeck, after the time at which it was cleared by PayPal)
If you read above-mentioned "Terms of use" and agree on it, please push a "PayPal"-button and move on to a payment page.
&nbsp

Trevithick's steam locomotive paper model

PRICE / $4.99